Check out my latest work React Markdown Table Generator.
You can use this React.js app to generate tables like the one shown below.
I'll host it on the web soon.
Edit [2 May 2017]: Added to Firebase
You can find the app at https://react-md-table.firebaseapp.com
Thanks Robert Lancer for telling me to upload to Firebase and also for helping me to fix the wrong path bug.
Note: Keep the homepage element empty in package.json. Otherwise, the build process will generate incorrect %PUBLIC_URL% path.
Screenshot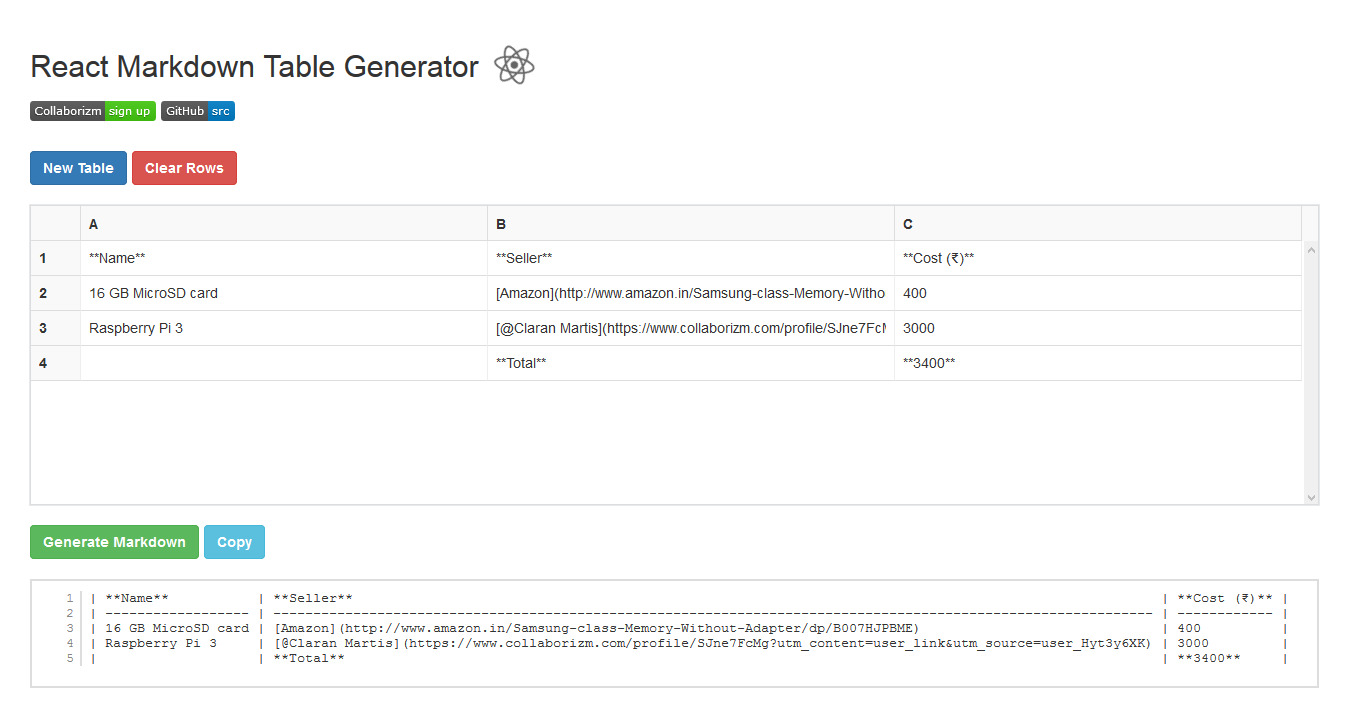 Output
Code
|

 

*

*

Name

*

*

           

|

 

*

*

Seller

*

*

                                                                                                     

|

 

*

*

Cost 

(

₹

)

*

*

 

|




|

 

--

--

--

--

--

--

--

--

--

 

|

 

--

--

--

--

--

--

--

--

--

--

--

--

--

--

--

--

--

--

--

--

--

--

--

--

--

--

--

--

--

--

--

--

--

--

--

--

--

--

--

--

--

--

--

--

--

--

--

--

--

--

--

--

--

--

--

 

|

 

--

--

--

--

--

--

 

|




|

 

16

 GB MicroSD card 

|

 

[

Amazon

]

(

http

:

/

/

www

.

amazon

.

in

/

Samsung

-

class

-

Memory

-

Without

-

Adapter

/

dp

/

B007HJPBME

)

                              

|

 

400

          

|




|

 Raspberry Pi 

3

     

|

 

[

@Claran Martis

]

(

https

:

/

/

www

.

collaborizm

.

com

/

profile

/

SJne7FcMg

?

utm_content

=

user_link

&

utm_source

=

user_Hyt3y6XK

)

 

|

 

3000

         

|




|

                    

|

 

*

*

Total

*

*

                                                                                                      

|

 

*

*

3400

*

*

     

|